Discover more from The Glenn Meder Newsletter
I am an independent voice who is speaking up for our freedoms, and in today's world, this can be risky. If you find my perspective on current events to be valuable and refreshing, please become a premium subscriber. Support independent voices!
Over 18,000 subscribers
Announcing the SOCRATES (pot of) GOLD Sweepstakes!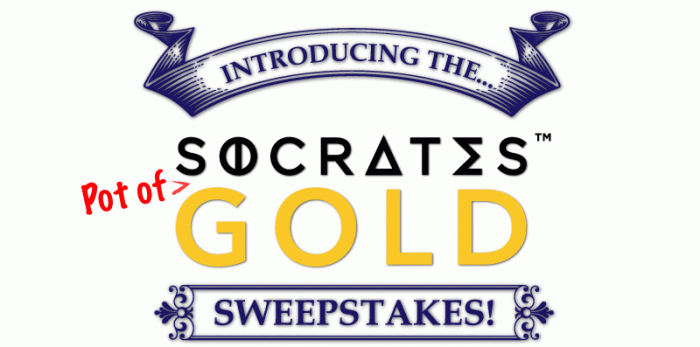 I have a special announcement that is going to make you super happy! I would like to announce our SOCRATES (pot of) GOLD Sweepstakes!
I wanted to do something special as a thank you for subscribing to my newsletter, so my team and I came up with the idea of an amazing prize giveaway. There is no catch. We're just giving away a bunch of prizes over the next two weeks (Sept 17th until Oct. 1st).
We're giving away 3 Grand Prizes (valued at $900 each), and 14 daily prizes (valued from $50 to $500).
The daily winners were...
September 30 - Carl (car******co@yahoo) Food Production System DVD, fire starter, USB charger
September 29 - Diana (di***c@mail) Art of Invisibility book, portable USB charger, PIA VPN subscription
September 28 - Nherb (ph***@ho*-***t) Rocket stove
September 27 - Robert (bo***.*hi**8*@gmail) Water Brick and solar charger
September 26 - Deweay (ha*****@gmail) Mini Classic home water distiller valued at $710!
September 25 - Andrea (sno*****20**@mail) Grow Your Own Groceries DVD course, Glo Shade and one-year PIA VPN subscription
September 24 - Shannon (bu*******4@yahoo), Sun Oven
September 23 - Tamra (ka*****4@hotmail) rocket stove and firestarter
September 22 - Amber (ab********aw@yahoo), set of Tuttle Twins Books, annual VPN subscription and Opteka 6000 solar charger
September 21 - Michael (bus********oad@yahoo), heavy-duty machette with carrying case and a fire starter
September 20 - Julie (and*********u@yahoo), rocket stove, fire starter and DVD
September 19 - Dan (by***y@usa), rocket stove, fire starter, and one-year PIA VPN subscription
September 18 - Jennifer (sn*********23**@yahoo), Grow Network Home Medicine Kit, Water Brick and Opteka 6000 Solar Charger
September 17 - Deborah (she****@yahoo), rocket stove, fire starter and copy of Lights Out by Ted Koppel
Now to announce the Grand Prize Winners...
Please note: I had great intentions of recording the screen to show you how I chose the winners, but I screwed it up. Sorry about that.
Thank you everyone for participating! Please leave your comments about the contest below.
P.S. Winners, be looking for an email with information about how to claim your prizes.