Discover more from The Glenn Meder Newsletter
I am an independent voice who is speaking up for our freedoms, and in today's world, this can be risky. If you find my perspective on current events to be valuable and refreshing, please become a premium subscriber. Support independent voices!
Over 18,000 subscribers
I'm Proud to Announce the Grand Launch of My New Product: The SOCRATES FIRE!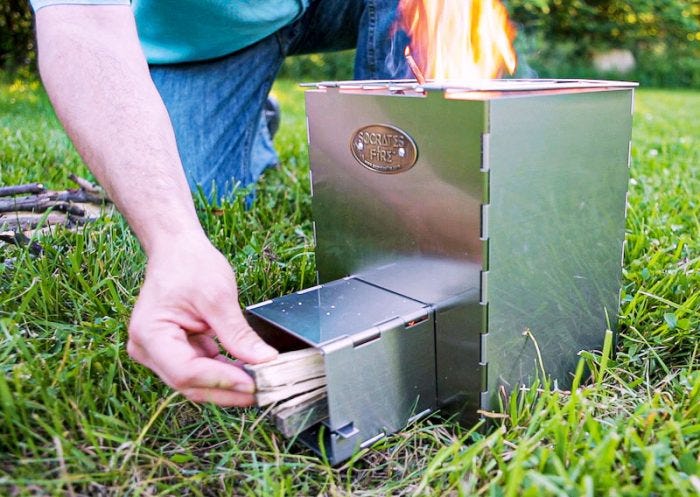 If you've been following me for a while, you know that I am an entrepreneur at heart. I work really hard to come out with fantastic products that are the best of their type. Today I'm happy to officially launch my latest product; the SOCRATES FIRE Rocket Stove!
It's a fantastic product. I am super proud of it and I know you will LOVE it!
The SOCRATES FIRE is the ULTIMATE rocket stove! It's super-efficient, it's constructed with heavy duty stainless steel and it's incredibly portable! It's the perfect tool for camping, missionary travel, outdoor adventures and emergency preparedness. And the SOCRATES FIRE perfectly complements the Survival Still.
Please watch this short video that shows why this is the very best rocket stove on the market.
I want to tell you about our Grand Launch Special, but first I want to give you a little of the backstory, because I see this as a journey that I literally couldn't do without you and everyone in my audience.
You may be aware that one of my core products that I designed and brought to market was the Survival Still, emergency water distiller. It's a tremendous product because it allows you to purify virtually any water in an emergency. You could even live on ocean water for the rest of your life with the Survival Still. Just like the SOCRATES FIRE, the Survival Still is "best in class".
But the Survival Still requires a heat source, so I've always wanted to offer a stove with it. I looked for years, and there were one or two that I thought were good, but I never found the perfect stove.
So last year I was talking to one of my customers, Jim H. (I don't know if he wants me to say his full name). He told me about a gentleman who developed a great stove, but he wasn't able to successfully bring it to market. Not because of the product, but the fact is, it's super hard to bring a product to market - even if the product is awesome.
I looked into it, tested the stove and LOVED it! So I talked to the inventor.
He was willing to work out a deal, but it would have been a big investment for me, so I wanted to test it. So I bought his remaining inventory (about 125 units) and told you, my audience, about them. I wanted to test whether there was a solid demand for it.
The result: we sold out in 24 hours!
That was wonderful confirmation, so I worked out a deal to secure the exclusive rights to the product.
But it wasn't a done deal yet, because launching a product is a lot of work and it's a BIG investment (like buying a house investment). It's a lot of risk, so my wife and I had to really do some Soul Searching!
So again, we asked for your help. We did a pre-launch special in March. This means that we gave people a great deal on the product, but we took the money up front (with full disclosure) and the product would ship at a later date. The prelaunch was a huge success! We pre-sold over 550 units in less than a week!
This pre-launch promo was hugely important for us! For one thing, it was another confirmation that people like the product. Beyond this though, the pre-orders helped us fund the production run of the new stove. It would have simply been too expensive to do this on our own. We invested the money that we received from the pre-orders into the product production and hiring the people we needed for the project.
So when I say I couldn't have done this without you, I am telling the truth. I am very grateful!
So, right now we are celebrating the Grand Launch of the SOCRATES FIRE! We have an amazing special offer with a great price PLUS free shipping, and a free case! (Did I mention this stove is truly portable? It folds to the size of a laptop computer!)
Get the SOCRATES FIRE Grand Launch Deal Now!
Also, I want to tell you three important points…
I'm telling you (my newsletter audience) about our Grand Launch before I tell the public at large. I want to give you first dibs, because we've sold out really fast when we pre-sold it, and I think we will sell out fast again.

In addition to our fantastic Grand Launch Special Price, I want to give anyone in my audience who orders before July 4th an extra surprise gift with your order. You'll like it!

We have a limited inventory and this special is good only until our current supply runs out. When we announced the pre-launch special, we sold 550 units in less than a week. I suspect we may run out of inventory before July 4th, so don't wait!