Discover more from The Glenn Meder Newsletter
I am an independent voice who is speaking up for our freedoms, and in today's world, this can be risky. If you find my perspective on current events to be valuable and refreshing, please become a premium subscriber. Support independent voices!
Over 18,000 subscribers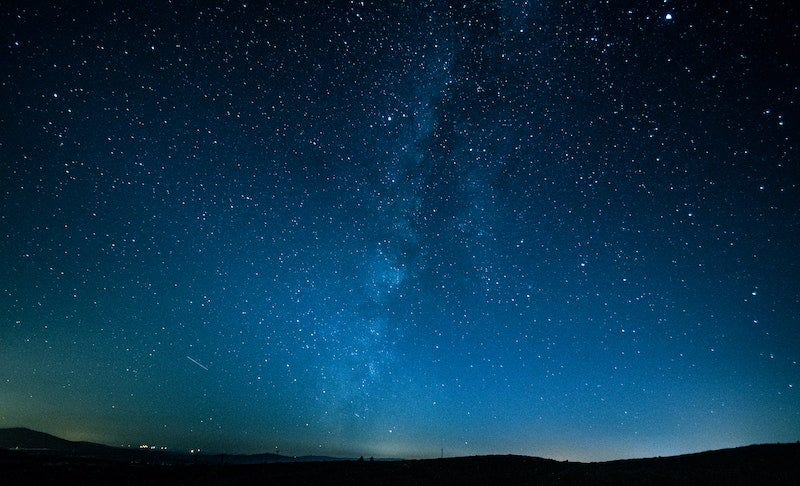 Hi everyone. This is another chapter from my upcoming book called, "Walking the Train Tracks". I hope you enjoy it. I would appreciate any advice on how to improve it.
The father closed his eyes and breathed deeply, inhaling the rich aroma of his favorite black tea. A sudden cool breeze sent goose bumps up his arm. He noticed his boy shiver and quickly got up to readjust the quilt that was draped over his shoulders. Thousands of pin-pricks of white light surrounded the brilliant moon, which seemed brighter than usual. The father relaxed back into the patio chair and smiled as the boy noisily sipped his hot chai.

"You know, it's my deep desire that you find success in this life. I have found some measure of success, and I'll teach you what I know. The rest is for you to you to figure out. It's part of the discovery of life.

Success is about happiness; a deep happiness that comes from realizing yourself as a spiritual being and living the life that you were meant to live. You will know when you find success. You will feel it here," the father motioned to his heart. "Your Soul will rejoice. Your heart will be light and full of joy.

Remember when I told you that you are not this physical body, but rather you are Soul, a wondrous creation of God; immortal and divine?

"Of course," said the boy.

Let this become part of the discovery of your life. Go beyond a mental understanding of this concept. Actually realize what this means. Know yourself as a divine Soul; know yourself as being completely loved by God and as having the unlimited capacity to love others. Let this awareness filter through every level of your being. Allow it to change how you think and perceive the world.

Life is not just a set of random problems. You are on a spiritual journey of discovering who you are and how you fit into God's worlds. You will eventually learn to see your life and its challenges from a higher perspective. You will learn what it means to be Soul. You will love yourself as a divine creation, and you will respect all others as the divine creations that they are.

At some point you will learn how to learn. You will see that most of life's problems are of your own making and you will learn how to live without creating more problems for yourself and others.

You will see that every experience in life has a purpose; a lesson to learn. If you don't learn the lessons that life tries to teach you, you will experience a pattern of problems that seem to repeat themselves. Before you know it, you've lived your whole life simply repeating the same problems over and over again. So learn life's lessons and move on.

It's in our nature to grow and improve our situation. This is not just a human condition, but it's a condition of Soul. When we grow and make progress we feel happy and satisfied.

So we strive to get things and accomplish tasks because we think this will make us happy. We strive to make money and to get a great job and a big house and the best college degrees. We want the perfect mate. We strive for the next accomplishment so we can get approval from peers or so we can get a promotion.

There is nothing wrong with these desires. It's important to do the best you can in all aspects of your life. But what we eventually realize is that by focusing on things that are outside of ourselves, our dream of happiness remains a dream. We accomplish what we think we want to accomplish, but we remain empty inside. True happiness eludes us.

At some point we realize that what we are really striving for is not the external thing, but the happiness itself. We learn to seek the happiness within us by placing our attention on that which makes us truly happy. We learn that true success is learning to love life, because when we love life and are grateful for this moment we are in harmony with life. We are happy and relaxed so we don't resist life's lessons. 

Success is about spiritual growth. Success is about getting in harmony with divine love and riding these waves of love back to the source of love itself. It's a never ending, fantastic journey.

The way to find true happiness is to open your heart to pure love. As you do so you will live spontaneously because you will move to life's inspirations. You will live a selfless life because as you are imbued with God's love you act in accordance with God's love.

You will be deeply happy, because you will be fulfilling your divine purpose. Your challenges will continue though, and each challenge will help you develop more strength and discipline. You will discover how to relax into each moment; to trust the divine guidance that inspires you. You will become a humble person, because you will realize the divinity of all persons.

You will learn how to listen to God's love in a very direct way. It's in this moment of pure surrender to the highest within you that you will be risen to the heights of heaven.

You will realize that your long journey to God is really just a journey in each moment to let go of your resistance and relax and feel happy and free and strong and courageous. One moment you can find true happiness by giving love, and yet in next moment you can forget again as you latch onto your anger and fears.

That's Ok. Let the past go and once again relax into the moment and take the next step in whatever you are doing. As you grow, you will learn how to have more moments in which you are truly happy.

I have found that the best way to take the next step is to be disciplined in spending some alone time with God every day. Feel grateful for life.

This is how you learn to focus on what is real. Happiness is within us and its source is divine love. Yet you have to face the challenges of life and develop the strength and purity of heart to let divine love within you.

Whenever things get overwhelming or you get scared, take some alone time and ask God for help. Do the best you can do in each moment and relax and know that God is taking care of you.

Make today better than yesterday. Plan and work to fulfill your desires, such as making a good living and getting the best job for you but remember that you are on an eternal spiritual journey. Keep the proper priorities in life.

You see, this is success. Find that within you which gives you deep happiness. Don't try to escape life, love it. Learn how to richly enjoy it. Find the balance point of doing your best and being your best while relaxing and trusting life.

And once in a while, or maybe more often, choose to sit outside with someone you love and just stare up at the stars instead of watching TV. The father smiled at the boy and reached over and squeezed his shoulder. The boy looked up and the moonlight reflected the love in his eyes.
Did this chapter move you and inspire you? Please let me know in the comments.
In today's upside down world, it's crucial that you find independent voices that you trust, and then support them. If you find my perspective on current events to be valuable and refreshing, please become a

Premium Member

. You will get access to great bonus content and the more people who sign up, the more great content we will be able to create. Thank you!