You Are Invited to Have Fun...
Help us make our Christmas ZAM Cards!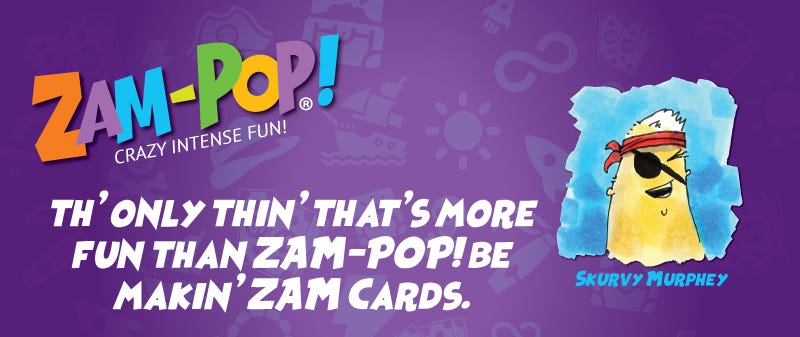 I want to invite you to help us create our Christmas Pack of ZAM Cards.
ZAM-POP! is a crazy-fast, impossibly-fun new family card game. Truly, there is only one thing more fun than playing ZAM-POP!, and that is helping us create the ZAM cards that go into ZAM-POP!
There are two parts to the game. The main card game is similar to a group solitaire game, but it's extremely fast. But then you also add our ZAM Cards into the mix, and it becomes truly nuts!
Our ZAM Cards add spice and craziness to the game, and the bigger your pile of ZAM cards, the more unpredictable the game play. Here are a few examples…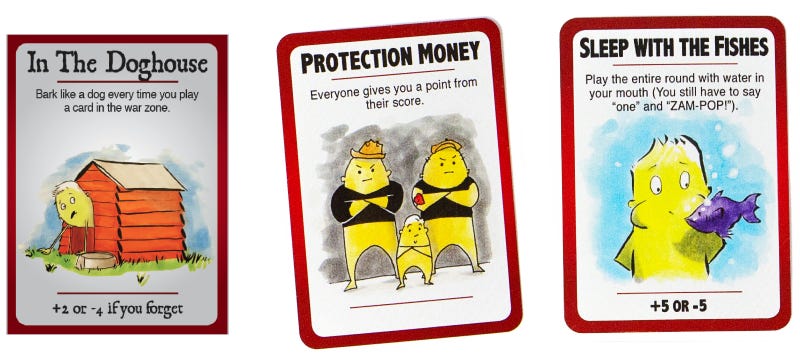 In The Doghouse… Bark like a dog every time you play a cad in the war zone. Imagine your grandfather getting this card!
Protection Money… Everyone gives you a point from their score.
Sleep With the Fishes… Play the entire round with water in your mouth, but they still have to speak sometimes.
Or these ones…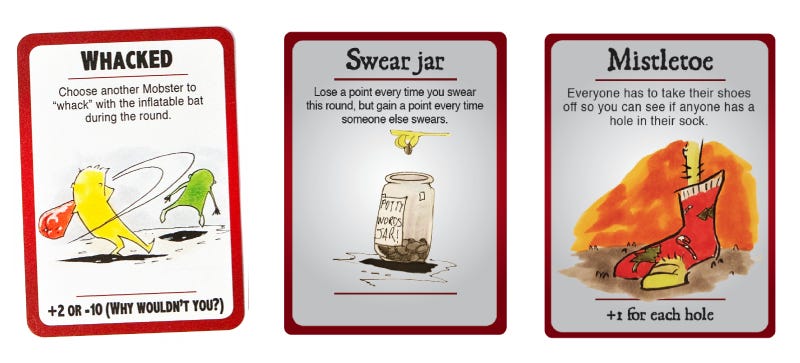 Whacked… Everyone's favorite! You get the inflatable bat and can whack another player as many times as you like this round.
Swear Jar… Everyone gives you a point from their score. You may think that your family is as pure as the driven snow, but inject some craziness and a lot of competition and you never know what may happen.
Mistletoe… This is a limited edition Christmas card, but it's fun and embarrassing. Everyone has to take their shoes off and you get a point for each sock hole!
There are MANY, MANY more ZAM Cards, and the more you collect, the more fun the game is. There are ZAM Cards that…
Change the game rules

Add or subtract points,

Allow people to steal points from others,

Allow you to create drama,

Create obstacles,

And some that require props (such as handcuffs, an inflatable bat, an eye patch and more),
We have only three rules for creating ZAM Cards…
They have to be fun and usually funny.

It can't slow down game play.

They have to be family appropriate.
We want to invite you to help us create five ZAM Cards for a special Christmas expansion pack. To join us, all you have to do is become a customer, and then you will be invited to a special group in which we will work together to create ZAM Cards.
For example, maybe we will have a "Ho, Ho, Ho", "Down the Chimney", "Scrooge" or "Fruit Cake" card. We need to brainstorm a number of other ideas, and then we have to come up with what each card means.
Please become a ZAM-POP! customer now!
Then we will send you an invite to the new private group we create to discuss future ZAM-POP! goodies!